325 East 79th Street, PH B New York, NY 10075
718 458-8683 info@landsbeyondltd.com
The Lands Beyond is a 50 year old exclusively Pre-columbian gallery. We do business from our website and our Manhattan penthouse apartment. You can contact us through our e-mail address info@landsbeyondltd.com or our 50 year old phone number: (718) 458-8683.
As Pre-columbian art dealers, we offer high quality, guaranteed, authentic, pieces at our regular low prices.

Ken and Barbara Bower
---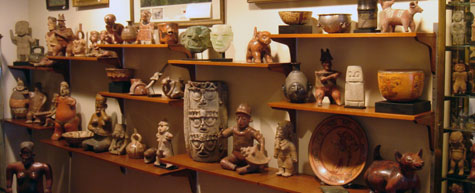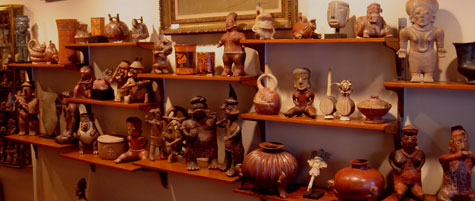 Gallery
THE LANDS BEYOND is a 50 year old Pre-Columbian gallery.
We're available by appointment if necessary, and request that you call to arrange a meeting time.
Authenticity
We unconditionally guarantee the authenticity of every piece we sell; based on our years of experience and consultation with the acknowledged experts of the different cultures. In our 45 years we have never had a piece returned as being a reproduction. We regularly authenticate for some of the largest auction houses, other dealers and collectors.
Selling
We carry pieces from every culture; in all materials and price ranges. The main qualification is artistic merit or rarity. Prices are in U.S. dollars. We accept checks or bank transfers. Shipping is at cost. There are no charges for handling or packing materials. We overpack, so we don't get breakage. Insurance is optional; it hasn't happened yet, but a package could get lost.
Buying
We are always eager to buy good quality material, from single pieces to complete collections. We're currently buying back collections we sold in the 60's and 70's.
Important
We can only show a tiny part of our very large and constantly changing inventory. Please call us for more specific information on other pieces.