Articles / General
Colima Shaft Tomb Models
In a November 1999 Pre-Columbian sale, Sotheby's of New York offered two pieces that were more than they knew.
Lot # 314 was described as a Colima head vessel, and #315 as a Colima double head vessel; both from the Protoclassic period, 100 B.C. - 250 A.D.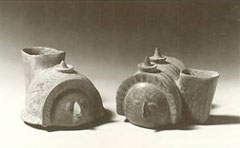 The two bowls were from the Volcanos area of Colima, in a style that very often has this type of face applied somewhere on the bowl. Some pieces, such as a dog carrying a large bowl on his back, may even have the faces on all 4 sides of the bowl.
But, both were actually accurate models of a shaft tomb from that period. In Hasso Von Winning's book, "The Shaft Tomb Figures Of West Mexico", page 95, there are 4 drawings of typical shaft tombs.
The bowls illustrate the two most complex ones, the actual tomb burial area; the shaft that is used with a rope or wood ladder.
Even cap stones are shown, looking like mushroom shaped adornments, atop the heads.
A geat number of Colima pieces give very specific information about their eveyday lives. Sometimes people are so eager to record the "where, when, and how" a piece is acquired, that they forget to pay attention to the "What" of the piece.